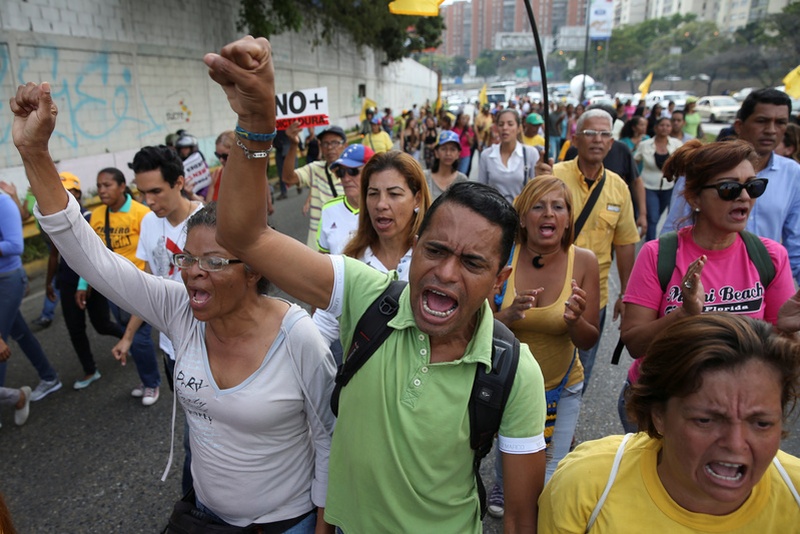 There were two protests on Tuesday: one called for by the opposition and one in support of President Nicolas Maduro's regime, most of whom were made up of dozens of people moving through Caracas on motorcycles.
A Bolivarian National Police officer fires rubber bullets towards demonstrators during clashes with opposition members in Caracas, Venezuela, Tuesday, April 4, 2017. Protesters were making barricades and attacking the riot police with rocks and bottles.
Venezuela has been mired in turmoil since the Supreme Court last week tried to tighten Maduro's grip on power by assuming legislative powers from the National Assembly - a move opponents had angrily branded as a "coup d'etat".
Several thousand angry anti-government protesters took to the streets.
Witnesses said police pepper-sprayed various opposition leaders including National Assembly head Julio Borges, twice-presidential candidate Henrique Capriles, and Lilian Tintori, wife of prominent jailed activist Leopoldo Lopez.
"We're going to get rid of them, but we have to fight", said Jose Zapata, a 57-year-old electrician, as he marched with a stick in his hand.
Although it retracted that ruling over the weekend, the National Assembly remains powerless due to previous court judgments.
"They want an intervention in Venezuela", said prisons ministry worker Juan Aponte, 34, who wore the red colours of the ruling Socialist Party.
Foreign pressure on Maduro has risen as opposition protests restarted late last week. The opposition said the TSJ's move was akin to a coup d'etat in favor of Maduro's regime.
Referring to the judiciary's takeover last week of the congress' responsibility, which was later rowed back following worldwide outcry, Moncada said: "You're imagining something that no longer exists so that you can promote intervention in Venezuela".
Maduro's administration is particularly furious with Organisation of American States (OAS) head Luis Almagro, who is leading regional condemnation.
The Organization of American States on Monday took its strongest measure yet rebuking Venezuela's slide toward authoritarianism. "It is truly a court of inquisition with all the abuses and vulgarities we have seen the past few days".
The Bolivarian Republic of Venezuela responsibly denounces before the global community an unprecedented act aimed at the destruction of the Organization of American States, through which a group of governments in league with the Secretary General, have carried out a take-over of the Presidency of the Permanent Council to impose on the organization and the rest of its member-states their own illicit agenda, which subverts its norms and seriously transgresses the principles and aims consecrated in its Founding Charter.
"We reject the actions of a sector of the National Assembly that seek to erode political, democratic stability and constitutional order", the top court's Constitutional Chamber said in a statement, AFP reports.